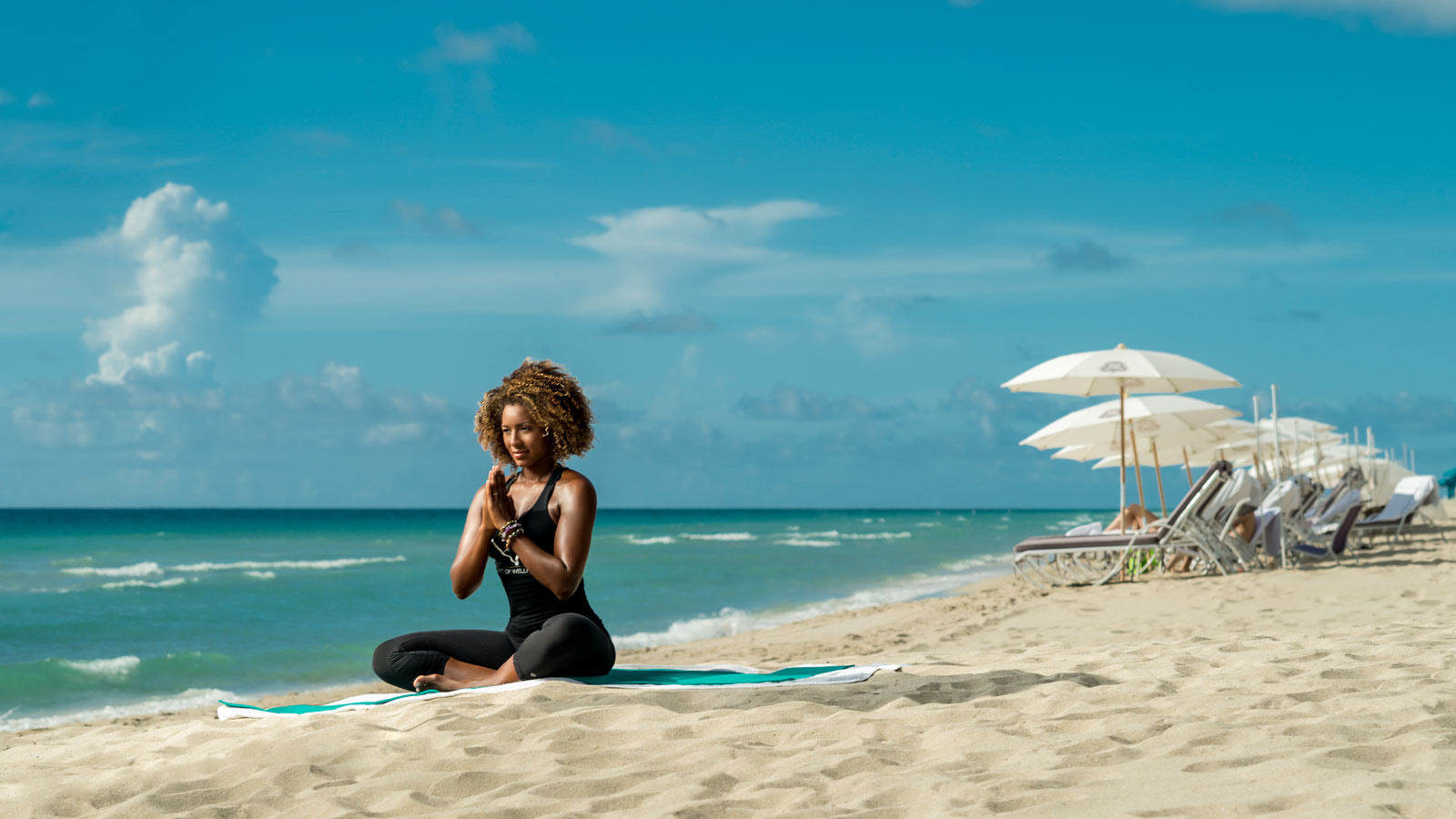 The St. Regis Bal Harbour Resort is proud to offer the Technogym® fitness center with the finest trainers and a full line of Italian-designed equipment, plus spectacular ocean views. We address Functional Movement and Training, an important fitness and wellness trend that re-discovers natural movement through promoting muscle strength, balance, and flexibility so individuals can perform day-to-day activities in a safe and effective way.
Our celebrity trainers utilize Functional Training to improve functions similar to those used in life's activities, customized for each individual regardless of fitness level. Outdoor elements, specifically the beach, are highlighted to achieve natural health and fitness goals. Exercises work on flexibility, balance, strength and power to prepare participants for sports or activities by challenging balance and movement patterns. Choose from Kinesis (a unique system of free cables that allows the body to move without limitations), Treadmills and Ellipticals with high-tech multi-media and web interface, and the industry's latest strength and functional training equipment.
Group Fitness Classes
We offer an array of group classes by noted trainers Tracie Wright Vlaun and Christopher Vlaun of V-Art of Wellness, the premier fitness and wellness training that integrates the natural elements of our beautiful beachfront location into their workouts. Programs include yoga and fitness to help participants feel reinvigorated both physically and mentally and to adopt a healthier lifestyle, reduce stress or achieve weight loss.
Please sign up at the Spa or workout site five minutes prior to the scheduled class. Sessions can also be customized as a private lesson. For additional information, contact 786-423-7590 or email contact@v-artofwellness.com
Personal Training
We offer a premier holistic training program, tailored to meet the specific needs of each individual. Led by celebrity trainers Tracie Wright Vlaun and Christopher Vlaun of V Art of Wellness, "V" stands for Vibration to raise the body's vibrational energy and overall health. Discover the essence of a mind/body escape in our serene beach setting for a personalized and life changing fitness/wellness experience beyond expectation. Reservations appreciated at least six hours in advance. Please contact 786-423-7590 or email contact@v-artofwellness.com.
Class Descriptions
AEROGA® MAT
AEROGA® MAT, designed by Tracie Wright‐Vlaun, is a pioneering health and fitness practice derived from traditional Vinyasa Flow Yoga, Dance, Pilates, Core Conditioning, and Aerobics. The unique sequence is a specific formula that is rhythmically enhanced and spiritually enlightening. The workout progression was developed in a way where one series sets up the next. AEROGA® is designed to liberate and ignite a vital life-force spark for every person, young or old, where they go away with an unforgettable experience in which they wish to revisit.
60 MIN. Intermediate/Advanced
POWER YOGA
This class is an intense, fitness-based approach to yoga. This is not your typical yoga class-while based on the Ashtanga yoga style this method provides an intense yoga experience designed to push students to the next level. Tests of strength and endurance are challenged with every pose.
60 MIN. Intermediate/Advanced
YOGA FLOW AND SUNSET YOGA FLOW
Beginner yoga focuses on body alignment, pranayama (breath control) and flexibility. The beauty of beginner yoga is that anyone, at any age, can take this class comfortably and yet feel challenged and more centered by the end of the class. Different from other power Vinyasa flows beginner yoga, allows for flexibility and strength but aims to give a more mind-body centered yoga experience.
60 MIN. All Levels
STRETCH AND SCULPT
Stretch, flex and release with yoga moves and resistance conditioning. You will sculpt the body while you increase core strength, flexibility, & agility. All elements are combined to create a total body experience.
60 MIN. All Levels
BEACH BLISS YOGA
Get physically and spiritually aligned on the beautiful beach front. Focus is on the balance between movement and presence of the mind using postures and breathing. The fluid motion is great for overall wellness and caters to all ability levels.
60 MIN. All Levels
AEROGA BEACH BOOTCAMP
Take your training to a higher level with power yoga and more. Join Tracie for a unique session of core, strength and circuit training on the beach. Beach Yoga BootCamp will jump-start your metabolism and boost your cardiovascular endurance. Be prepared for an hour of sweat, rhythm and moves.
60 MIN. All Levels
BEFIT METHOD™ BOOTCAMP
A fun fitness camp for both men and women. The balanced workout integrates the body-mind-spirit connection through Eastern and Western training modalities that include: interval aerobic and functional strength conditioning, core training, ply metrics, boxing, basic Yoga poses, and meditation all often performed on the sand. Shoes are optional.
60 MIN. All Levels
BEACH CARDIO SCULPT
A total body workout for muscular strength and endurance. Non-stop movement will keep your heart pumping during our one hour sculpting session.
60 MIN. All Levels
SHRED TRX BEACHCAMP
A high calorie burning, dynamic, beachcamp integrating training modalities that include: interval aerobic and functional strength conditioning, core training, TRX and a basic yoga cool down, all performed on the soft sand. Shoes are optional.
60 MIN. All Levels
CHISELED AB BLAST
Intensive abdominal strengthening circuit class held on the beach. Focus is on core strengthening. Each layer of the abdominals is addressed: rectus external oblique, internal oblique, and all intercostals muscles.
45 MIN. All Levels
BEACH CORE CIRCUIT
Mixed modality circuit which focuses on stability, internal alignment, symmetry and core. It incorporates harmonized movement patterns. This muscle toning beach class accelerates weight loss and calorie burn.
60 MIN. All Levels
CRANK YOUR CORE, LEGS, & GLUTES
A workout designed to improve power, strength, and endurance in one of the most effective lower body circuits. This is a metabolic training method to keep your body burning. It boosts your ability to burn fat, build muscle, and maximize your body's capacity for change. This combination is perfect for torching fat and improving overall physical fitness at the same time.
60 MIN. All Levels
INTRO TO NATURAL FITNESS
Introduction to natural resistance movements, which nurture flexibility and power. Focus on methods for people to find their innate natural potential and learn how to use natural elements to lose weight and tone muscle.
60 MIN. All Levels
FOOD TALK: TRADITIONAL POWER FOODS
Since the beginning of time people have passed down the knowledge of food. In traditional cultures it was a core belief system to balance health and lifestyle. Traditional foods should be eaten to compliment our own natural biology. This introduction lecture will focus on a modern lifestyle with benefits of traditional foods.
30 MIN.