Introducing the Roche Bobois Oceanfront Day Villas at The St. Regis Bal Harbour Resort
The St. Regis Bal Harbour is proud to partner with renowned luxury furniture brand, Roche Bobois, to reimagine three luxurious Oceanfront Day Villas - ACACIA, HIBISCUS, and MAGNOLIA. Roche Bobois' elements of creativity and European know-how were ideal for the popular day villas, providing a truly refined and luxurious aesthetic, bringing together the best of design, comfort, and style in these unique lounge spaces. Each of the three 600 square-foot villas feature unique interior and exterior designs outfitted with the brand's notable furnishings, including the MAH JONG, VOYAGE IMMOBILE and ESCAPADE sofas; the LOOP and MADAME O dining chairs; as well as the brand's TRAVELER collection designed by Stephen Burks, among many others. The popular Day Villas include an indoor air-conditioned lounge, wet bar, bathroom, and shower, plus a private outdoor terrace and signature St. Regis Butler Service.
MAGNOLIA
In reimagining the Magnolia cabana, Roche Bobois used the ocean and its blue depths as an important source of inspiration in this nautically themed cabana, bringing the relaxed sophistication of a day spent at sea. The ESCAPADE sofa sets the tone featuring a white and navy-blue chevron patterned textured weave fabric on the outdoor version, while in the interior version brings the sea inside upholstered in cobalt blue fabric. The WISHBONE armchair evokes the nautical cords of a sailboat, intertwining two sets of thin cords around a metallic frame to create an aerial and translucent seat. The MUCIDULE cocktail tables and AVA armchairs carry on the theme of translucency of the sea, the organic shape of the design evoking a jellyfish swimming in the water.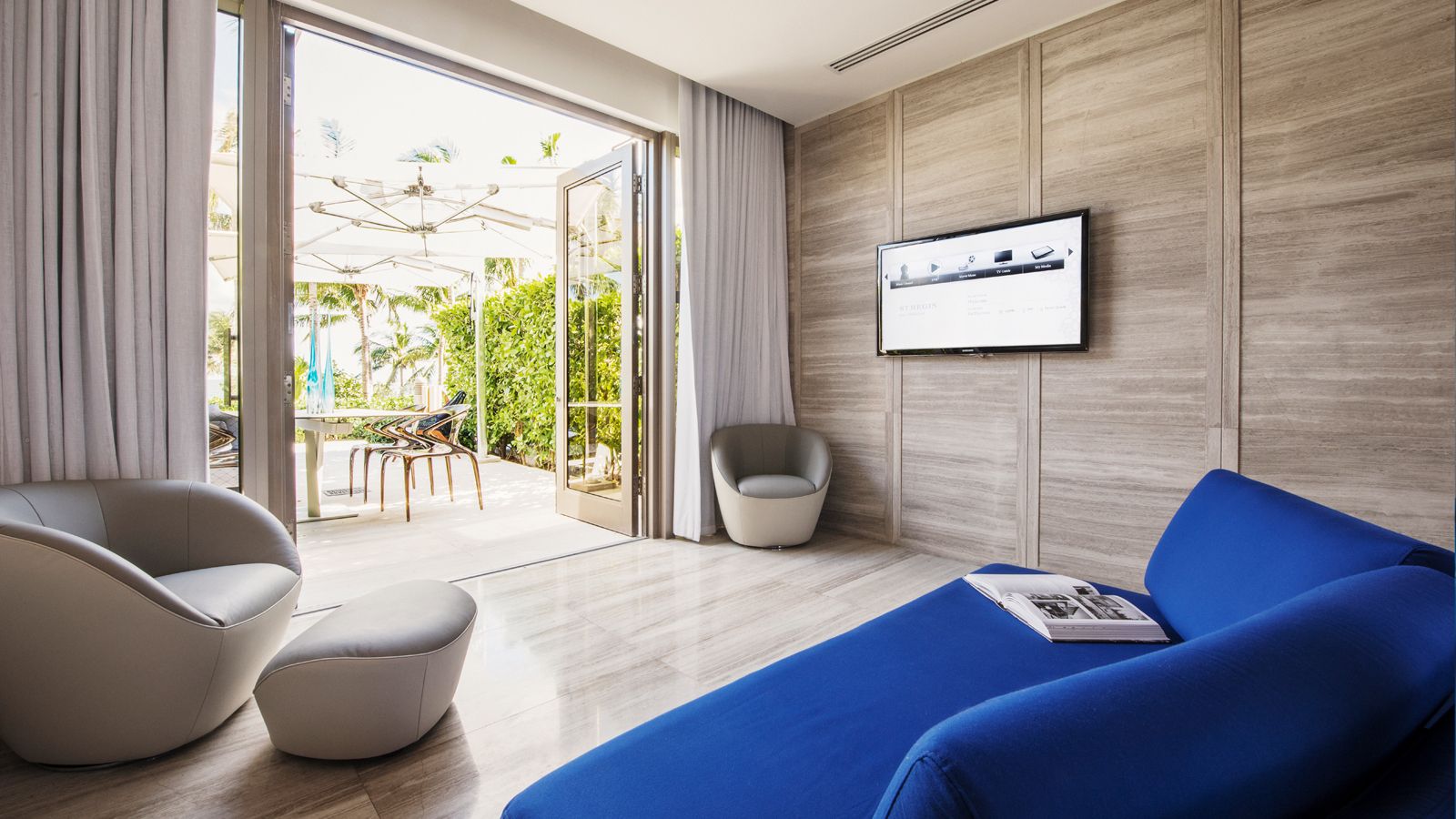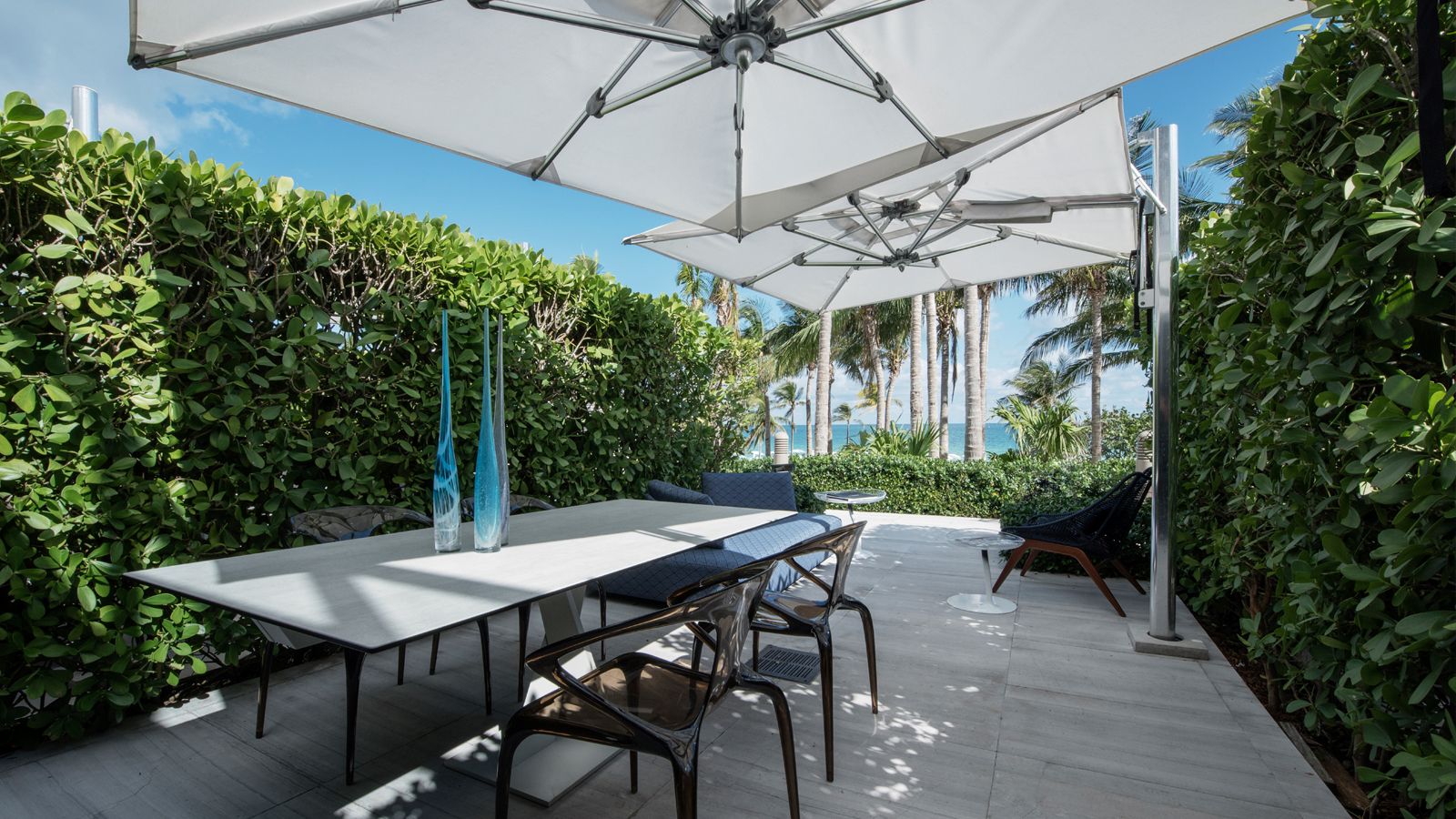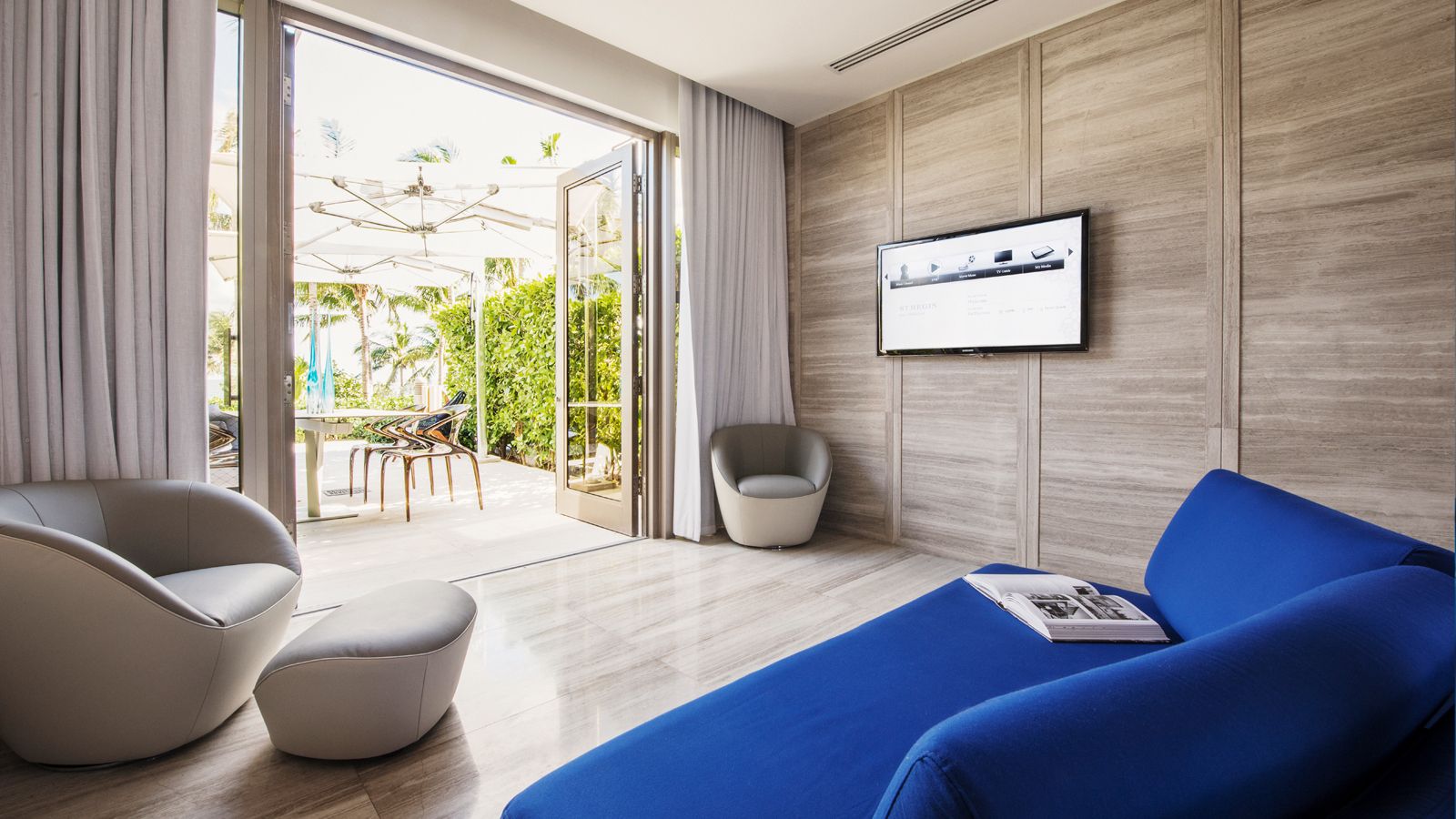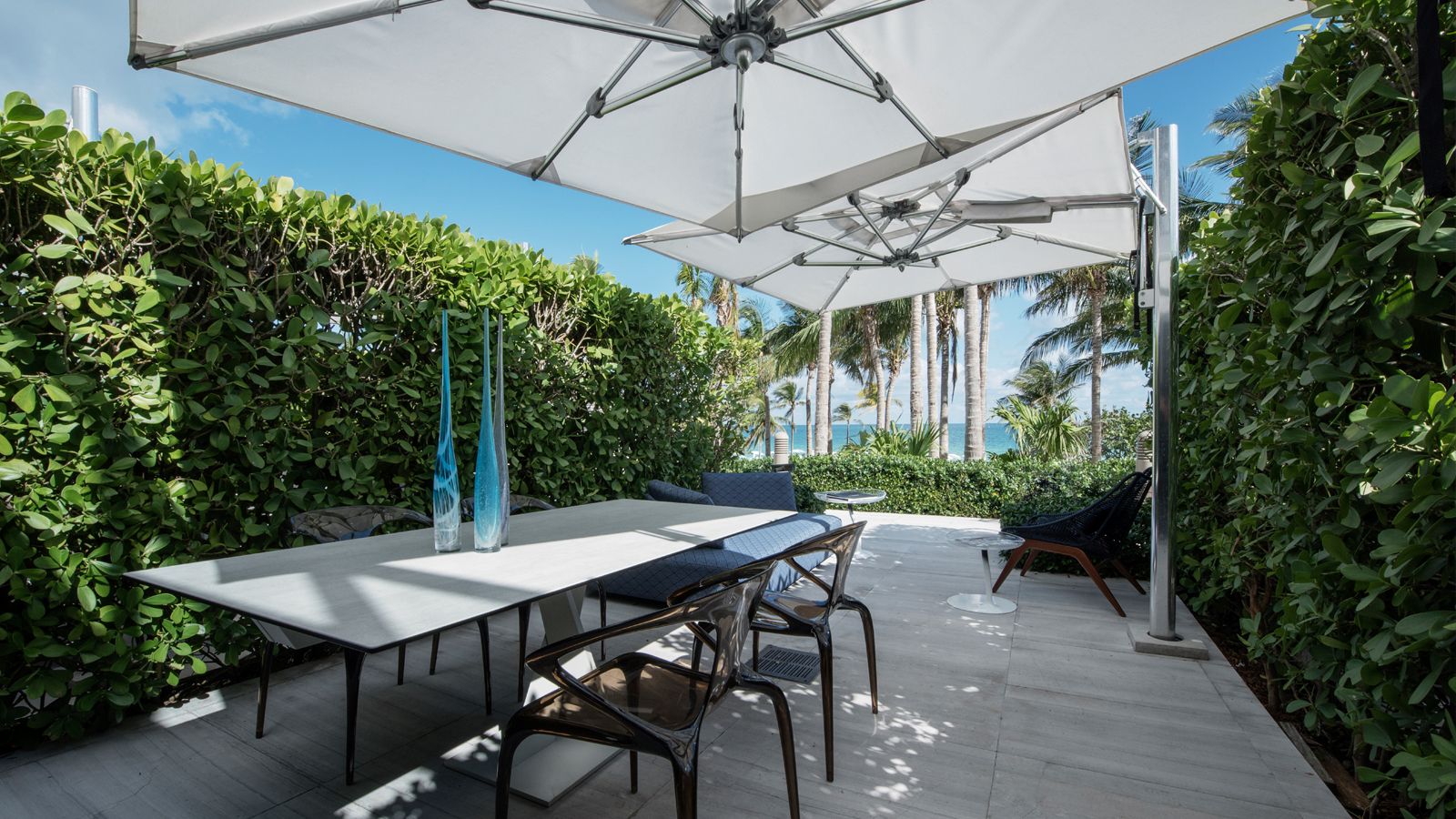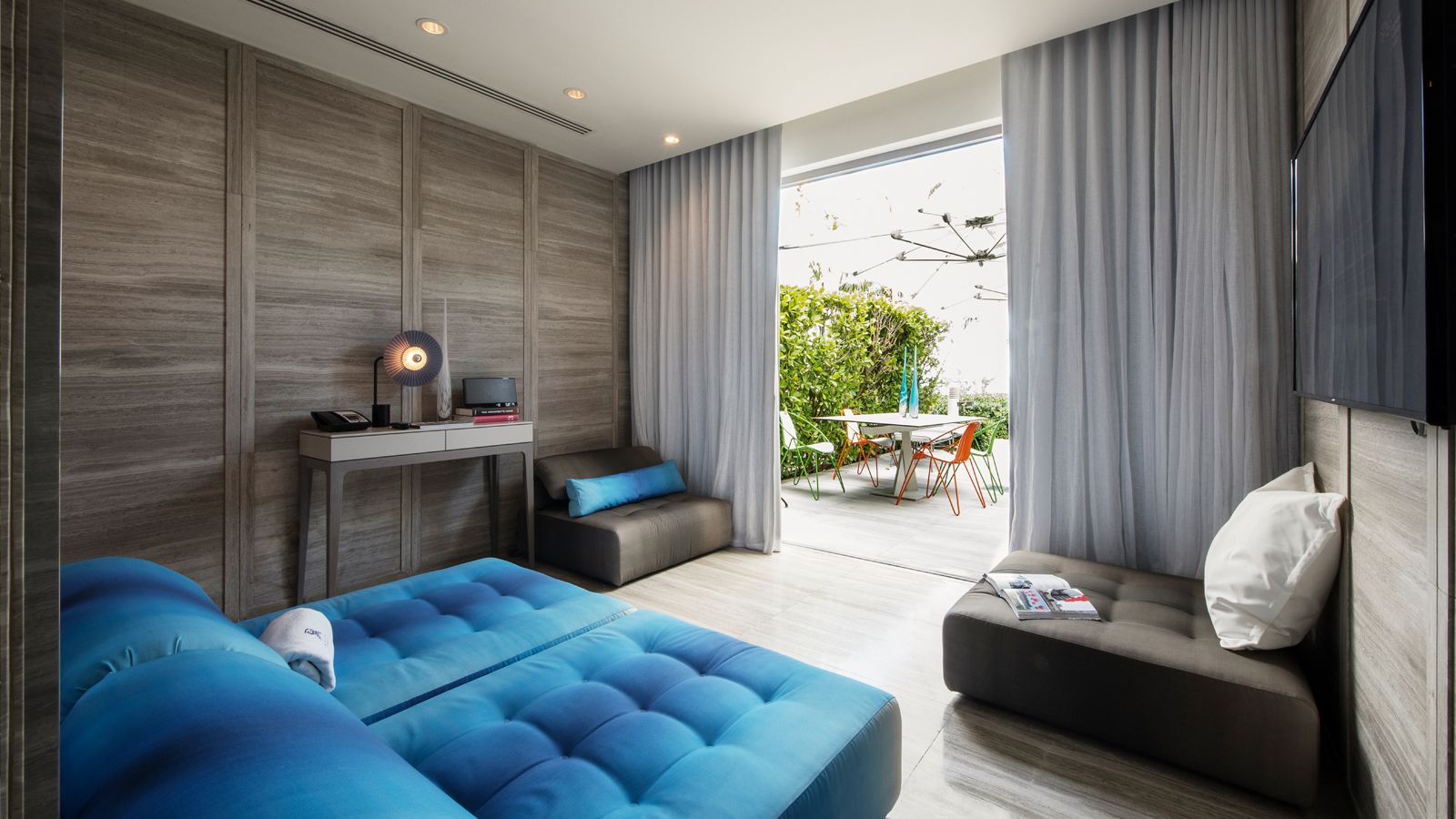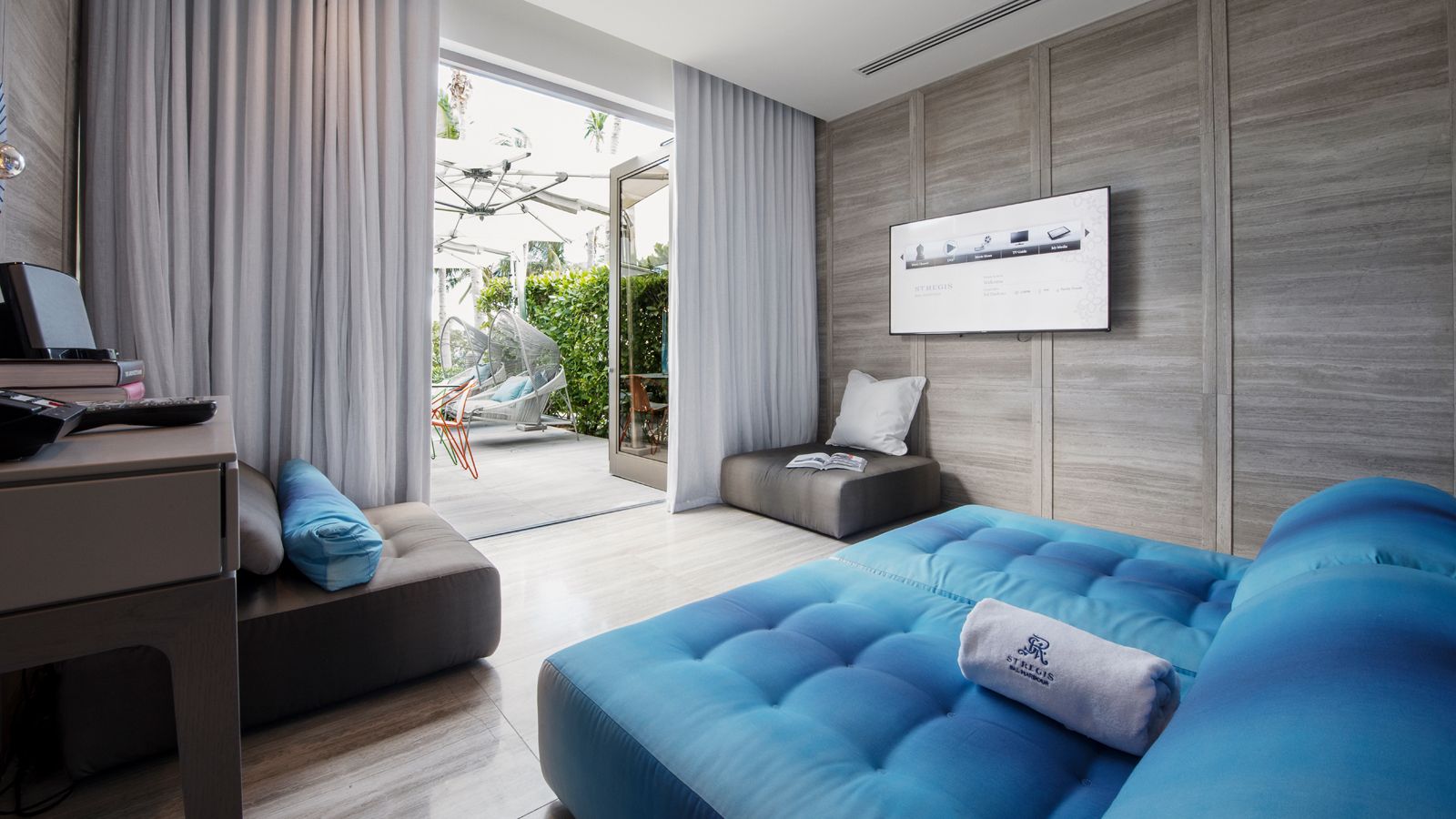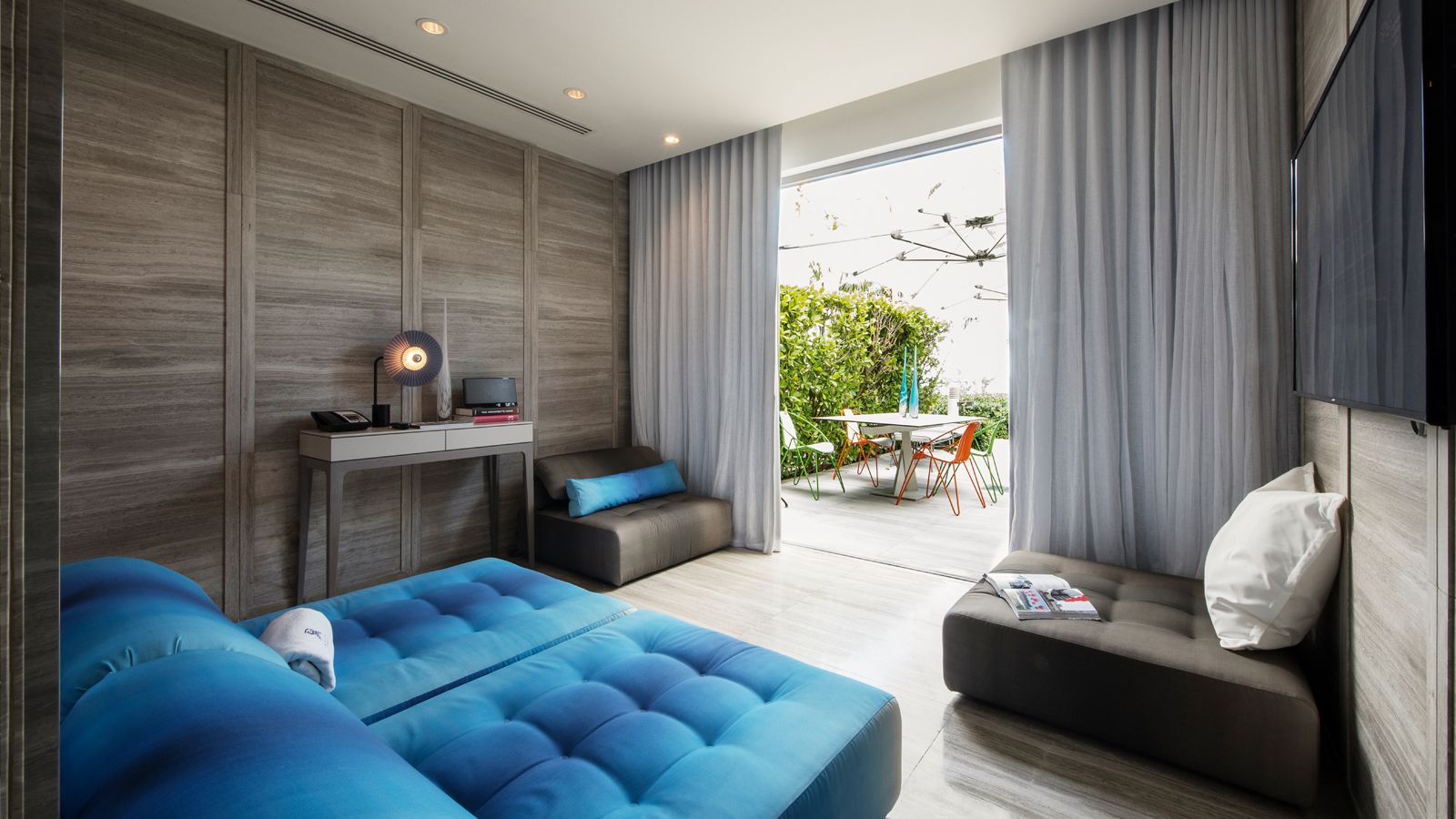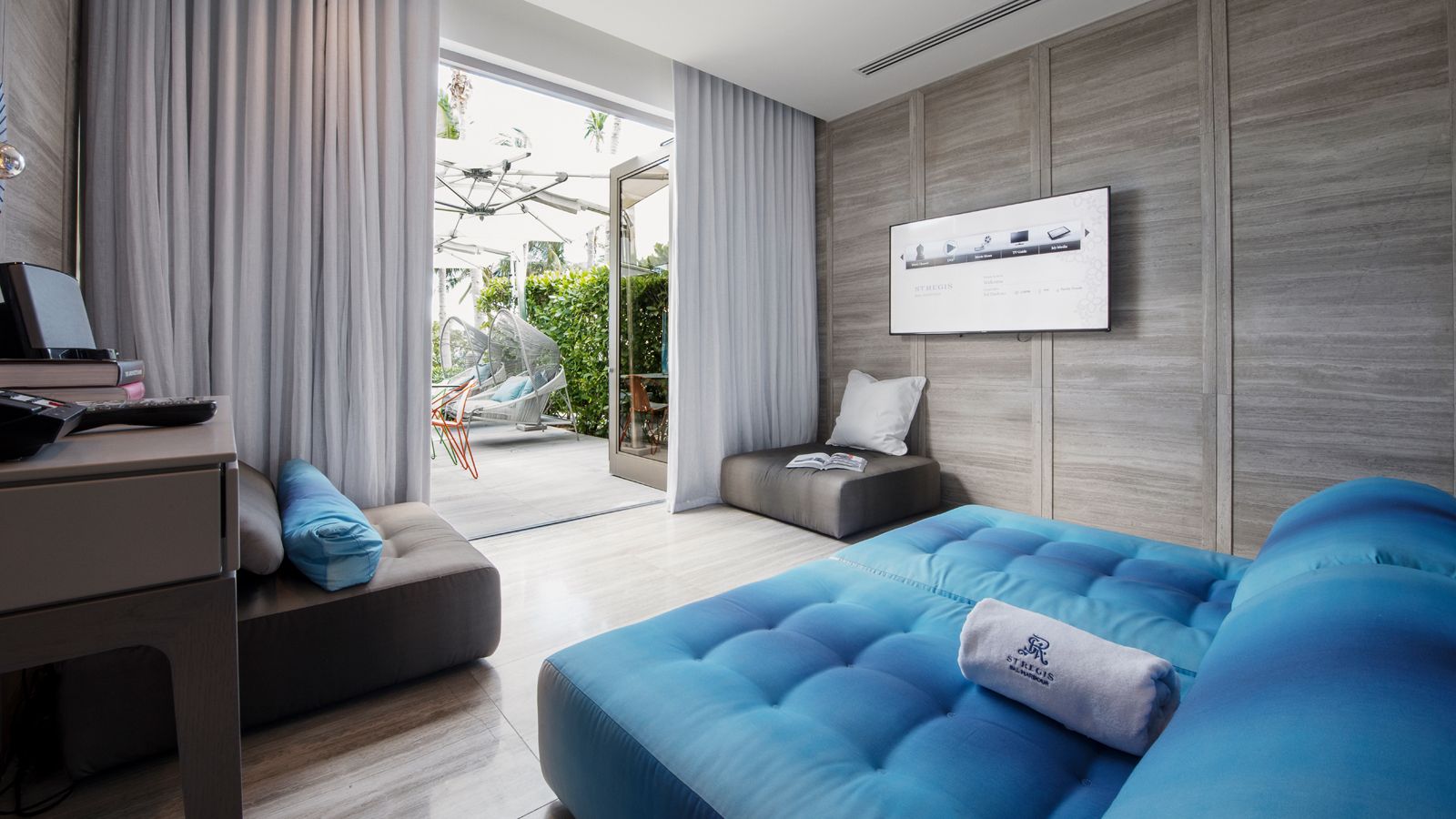 HIBISCUS
For the Hibiscus cabana, Roche Bobois took our inspiration directly from nature. The eco-designed SAGA collection is the embodiment of organic design, the QF2 quality for the table's oak draws attention to the nots, branches and other visible features of a tree's life cycle. The branches of the armchair wraps around to create a cocoon and gives one the impression they are relaxing in a forest. Inspired by fishermen's floats, the WATERLINE occasional tables, made by highly skilled potters using a particularly resistant type of Italian clay complement the outdoor seating. |Inside, our iconic VOYAGE IMMOBILE sofa creates an organic style of sitting, using a combination of seat cushions to suit any taste or need.
ACACIA
This cabana was imagined as an invitation to embark on a journey. The Traveler collection invites you to come and relax, the generous proportions of the armchair evokes a world of its own in which to travel and get lost in reverie. Inside, the MAH JONG sofas offer a getaway of their own without ever having to leave the comfort of inside.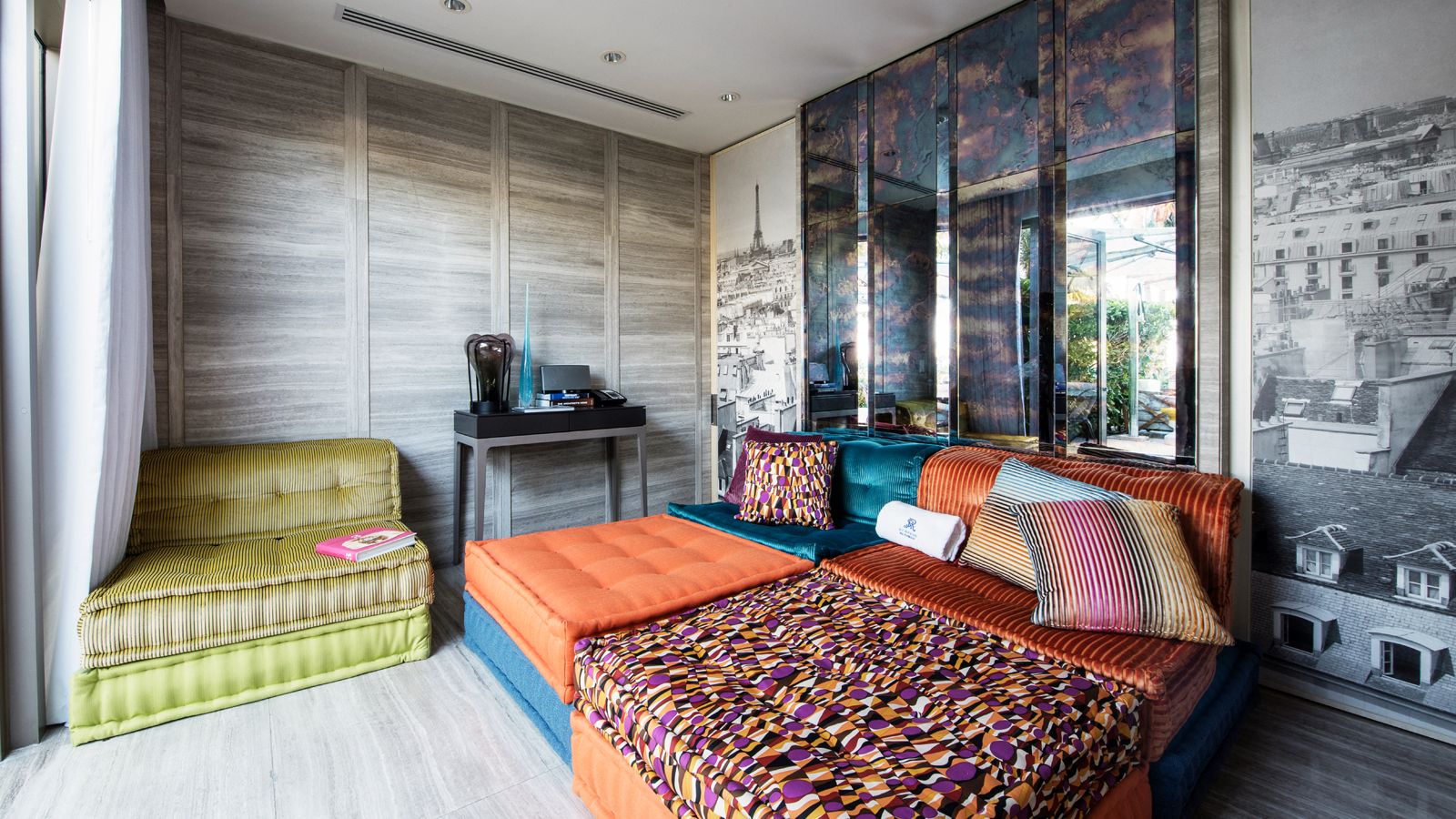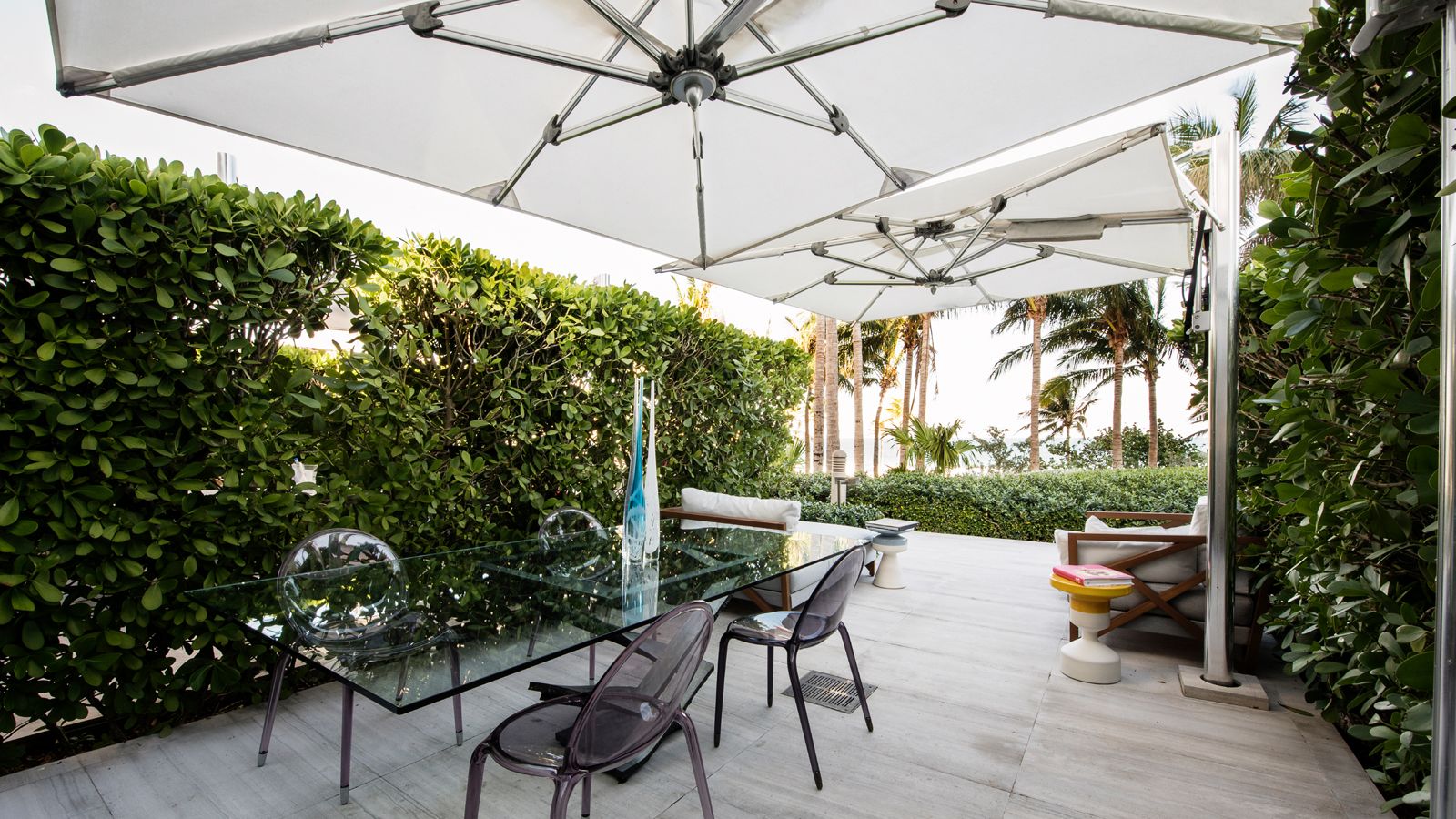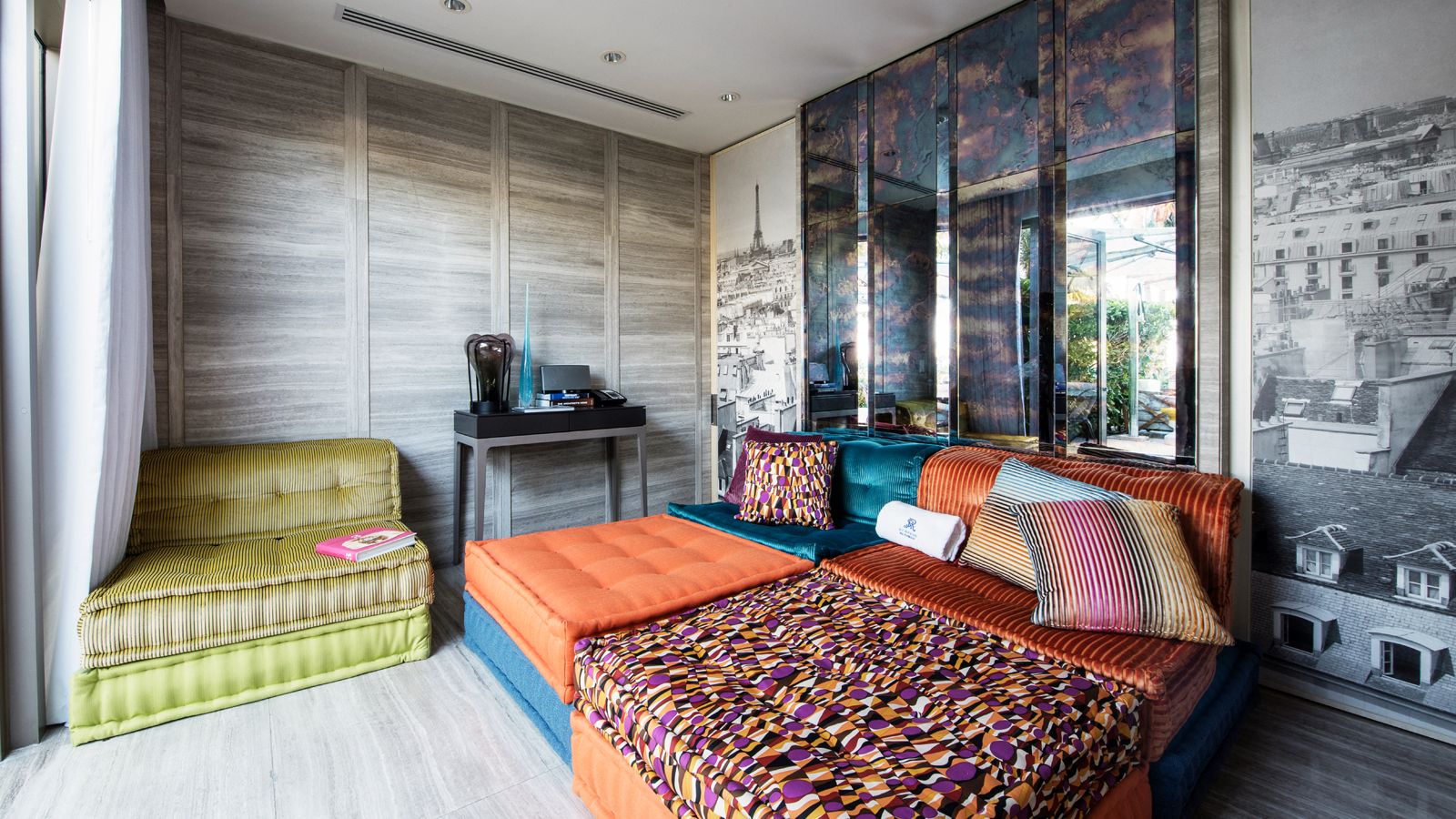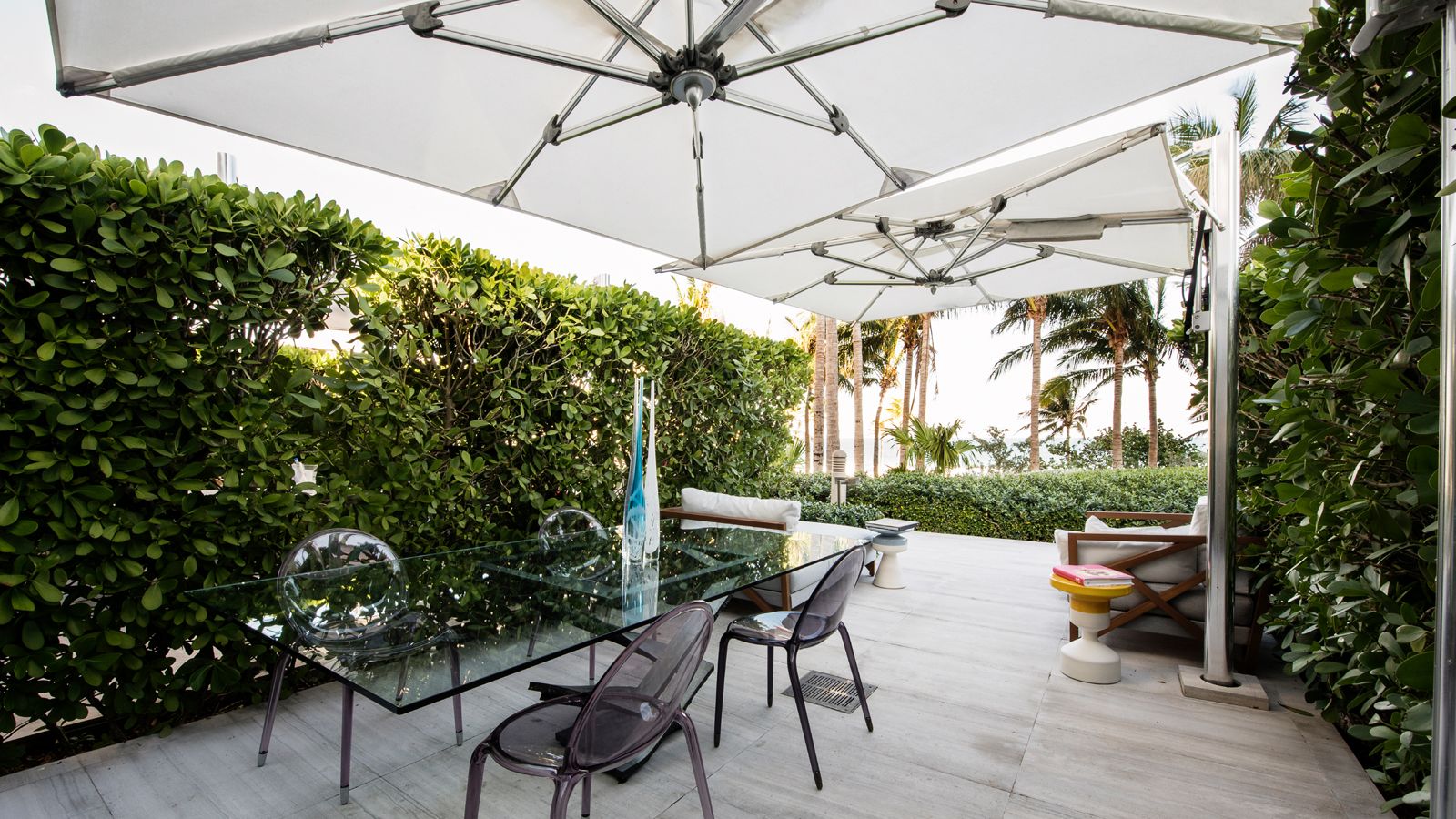 To reserve one of the reimagined Oceanfront Day Villas contact our concierge team at 305-993-3303.
ABOUT ROCHE BOBOIS
Founded in Paris in 1960, Roche Bobois is a world leader in furniture design and distribution known for its innovative creations, high quality, European know-how, and French Art de Vivre. Each furniture piece is born from a close collaboration between the brand, international designers, and European artisanal workshops. Through a high level of customization, the brand offers each individual client a personalized approach to interior design. Roche Bobois currently has 255 showrooms in 55 countries worldwide. To learn more visit www.roche-bobois.com